Welcome to my Camera Section. If there are any pictures of you or yours that you do not wish to have on this page, please email me.
---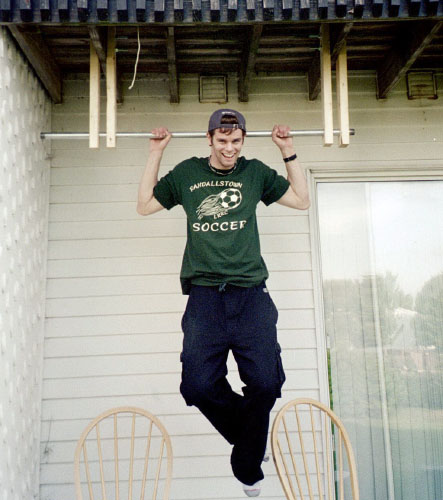 On Labor Day weekend, I popped up to State College, PA. This is Bret hanging from his newly installed homemade pull-up bar.
---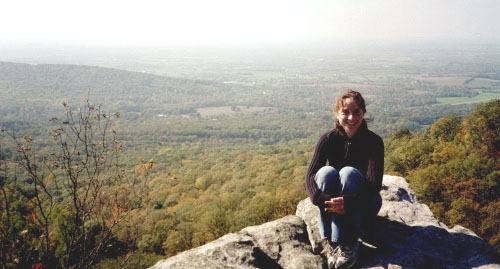 Kate came out to visit for my birthday in October. While she was here went drove out to the Appalachian Trail to hike a bit. This is the rock where we stopped to have lunch.
---
Here's a picture of some people shooting a movie outside of Kate's apartment while I was home for Xmas break. (I don't know why, but Kate just had to get a picture.)
---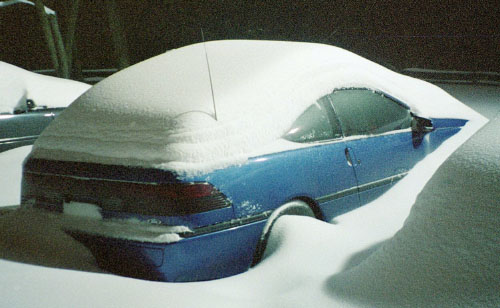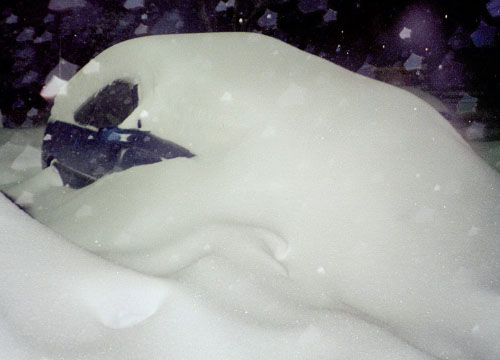 On Valentine's Day weekend, the Washington DC area got a record amount of snow. Here you can see my car is completely buried. It still snowed for about another hour after taking this picture. And I thought I had moved away from nasty snowstorms like this.
---
This is the picnic table outside my apartment, buried in snow.
---
That night, after being cramped indoors all dyay, I decided to walk to school for the heck of it. A lot of my pictures from that night didn't turn out. This is a picture of the fountain outside the math building. This picture pretty much sums up why few of the pictures turned out: 1) It was dark because it was 11PM and 2) It was really bright from all the lights reflecting off all the pure white snow. It just wasn't good conditions for simple photography. (I'm really upset, too, because I had cool pictures of the huge snow-plows.)
---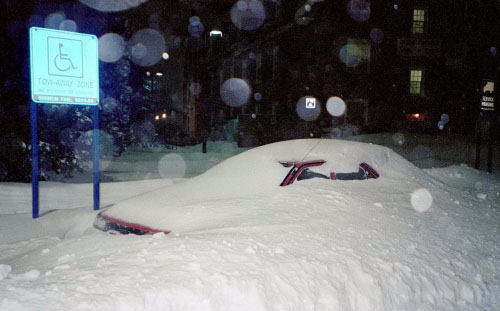 I thought this was somewhat of a comical situation. Here's a guy who can't move his car because it's snowed in. But they can't tow him like the sign warns because he's snowed in. On top of that, if the guy really is handicapped, he's gonna have a hell of a time trying to dig his car out. ... Ok, guess you had to be there.
---
This is my fish Schnookey-Wookums. Look how HUGE he is!!! Actually he's about 5" long. I still have yet to get a really good picture of him. But this one's better than my last.
---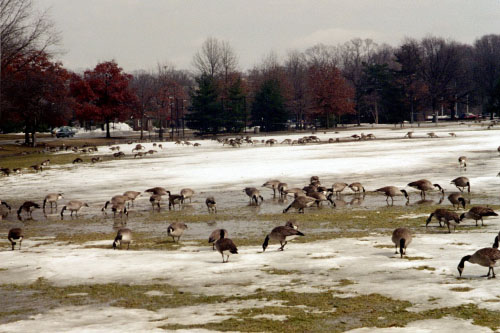 As the massive amounts of snow began to melt, all of campus was turned into a shallow pool of water. One weekend I found about a gazillion Canadian geese had made the front of the Math building into on big buffet/toilet. I didn't have my camera with me, so I took this picture the next day. Sadly, by then there was only about half as many geese as the first day. So imagine this picture with twice as many geese.
---
SPRING BREAK!!! WOO-HOO! For Spring Break '03, Kate, her mom and brother, and I drove out to Denver to see her other brother, to go skiing, and to finish up with a snowshoe journey to Janet's Cabin. We were also delivering a new truck to her brother, so this is the view Kate and I had the whole way to Denver.
---
The complete set of pictures for Spring Break '03 are yet to come. Most of them weren't taken on my camera.
---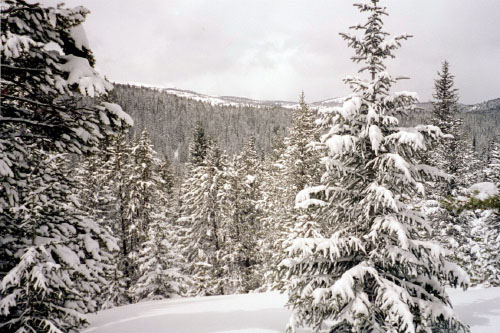 One of the many amazing views during our 4-mile hike to Janet's Cabin.
For a better quality copy of this picture, click HERE
---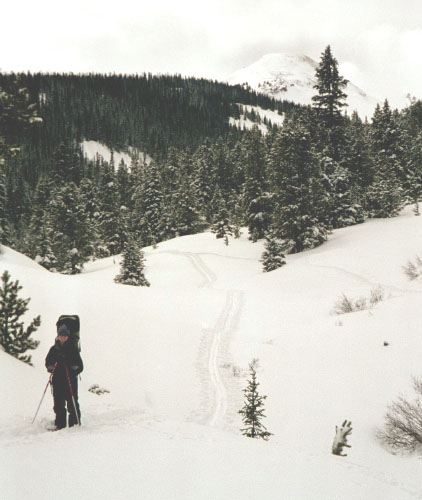 This is Kate in front of a cool mountain.
For a better quality copy of this picture, click HERE
---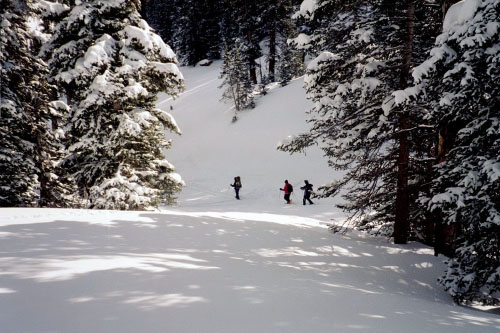 Here we see the Nichols clan heading out from the cabin on the next day. It was quite an adventure.
---
Here is a view back onto Janet's Cabin. You can barely see it in the large picture, so I provided the second picture to point out where it is. You can just see it's snow-covered roof and one of it's wooden sides.
---
Our trip back went much faster. It took about 4 hours to get to Janet's Cabin from the top of one of the lifts at Copper Mountain. And it took 3 hours to get all the way back to the bottom of the ski slopes. I think it had something to do with the fact that we were going downhill the whole way instead of uphill.
---
This is suppose to be a picture of what we called "Rock Cabin." At one point on our journey in, we saw the dark speck on the mountain side and thought that that might be the cabin. As we journeyed on we realized that not only was that dark spot a rock bluff, but that getting to it would've been extremely impossible.
---
The Nichols reach the slopes and begin to make the easy and quick descent back to civilization.
---
An action shot of Mary and Kate on their final arrival.
---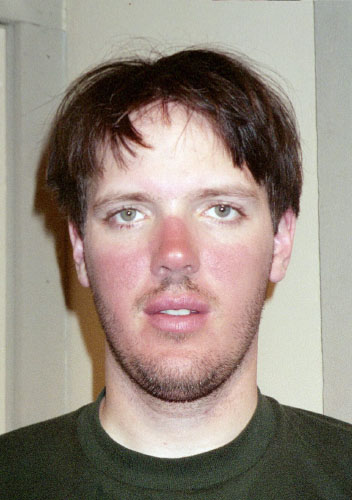 Let this picture serve as a warning to those who think they don't need sunscreen when skiing in Colorado.
---