Welcome to my Camera Section. If there are any pictures of you or yours that you do not wish to have on this page, please email me.
---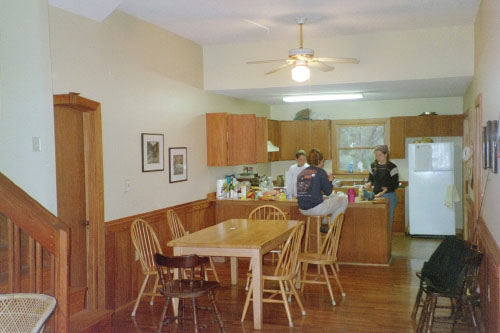 The kitchen and dining area inside of John's cabin.
---
The living room area of John's cabin.
---
Ah, yes. This is the "Green Machine" (aka the "Six Pack") that we drove around all week. This thing was a monster. For scale, compare it to Erin's Buick. Oh, and do you like the color? The official name of the color is "Forest Service Green." Now go off and paint your house that color!
---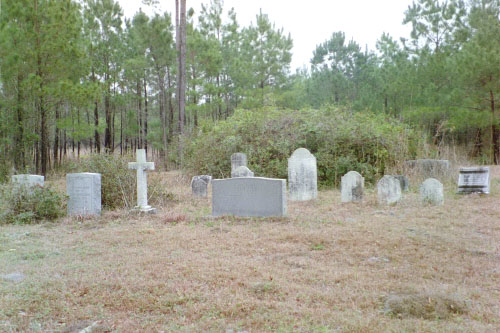 The property we stayed on was 750 acres and had been in John's family for 15 generations. This is John's family's cemetary located on the property and it contains members of the past 5 generations of his family.
---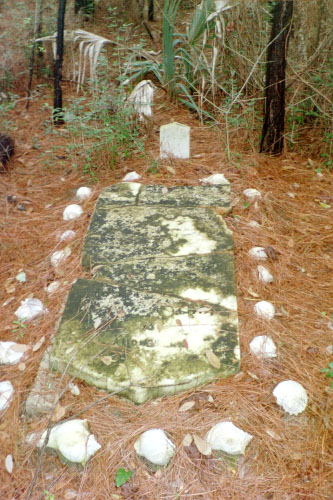 Just off the lane, a hop, skip and a jump into the woods lies this grave of a Confederate soldier. He was supposedly killed in battle and his friends quickly marked the spot and buried him. They came back after the war and place a proper gravestone. However, somewhere along the line (probably due to Hugo), the stone was crushed and John repaired the masonry.
---
This is the sign that hangs at the entrance to John's property, more formally known as "Palmetto."
---
The next six pictures depict a walk from the main road, down the lane, and into the heart of John's property. Each picture was taken exactly 250 paces after the previous. Notice the variety and beauty of the land.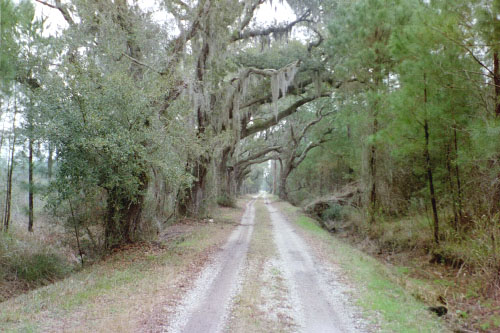 You can't quite see it, but the cabin lies ahead under the far trees. Supposedly John's property stretched for 1/2 mile in every direction of the cabin. I know it must go a bit farther than that because the lane itself was just under one mile long.
---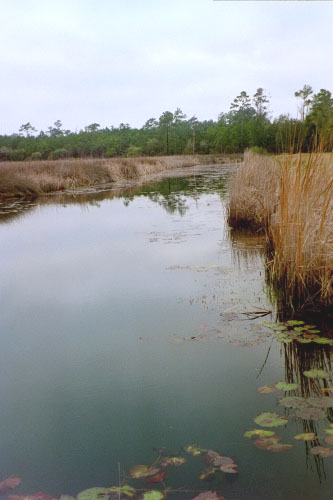 These are the two ponds that flanked the last 1/4 mile of the lane. We frequently saw small alligators and turtles sunning themselves here. I tried to fish in these ponds, but the bugs got to me before the fish did. Oh, and while I'm talking about fishing and alligators, let me digress for a moment: On one of the nights, Katie and I decided to take a canoe out on a different pond on the south side of John's property. We didn't get out until after dinner and so it was getting pretty dark. But we put in anyway and tried to find our way along the narrow canals that lead to the large open pond. Searching around with my flashlight, I noticed something. I quickly instructed Katie to shine her light where mine was and then she saw them, too. There were about 5 or 6 pairs of red eyes all huddled together, glowing back at us from the bank 20 feet away. Gators! We whipped the canoe around and headed straight back to port. That was pretty creepy.
---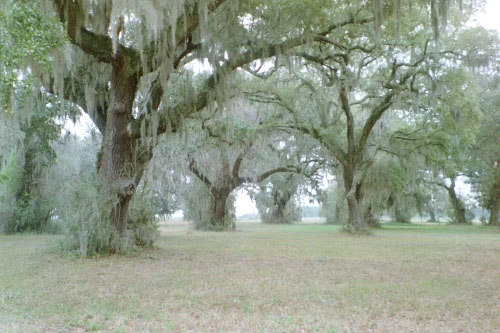 Anyway, back to my tour of John's property. This is the lawn around his cabin. Have I mentioned that I love the Spanish Moss? It doesn't hurt the trees and it gains all of its nurishment from air bound water molecules and dust. How neat is that?
---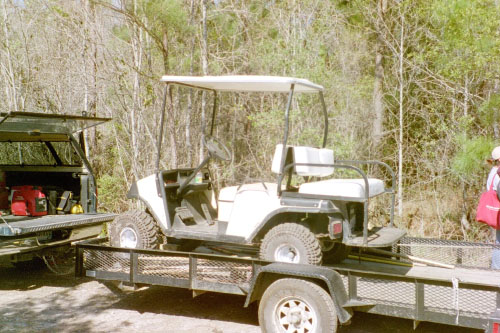 This is Jimmie's golf cart that we used to drive around on the trails all week. But this isn't your ordinary golf cart. No, no, no. This one has been "juked" up with a larger suspension and a more powerful electric motor. Supposedly it can go anywhere a 4-wheeler can go. And from what I experienced, I don't doubt it.
---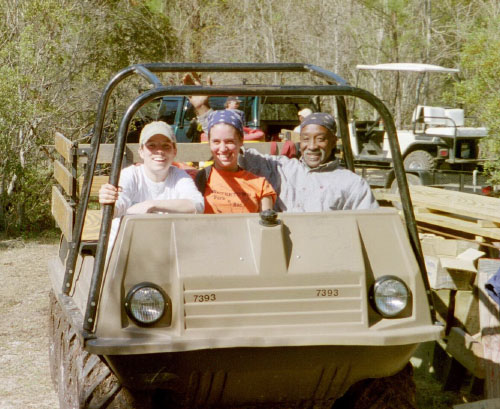 This is Steph, Suzy, and Nick sitting on the legendary "Buffalo." First, the Buffalo was this awesome 6-wheel all-terrain vehicle that drove like a tank. Second, Nick was Jimmie's right hand man with an insatiable taste for fun. Put the two together and you get one hell good of a time.
---
Back: John, Suzy. Middle: Erin, Steph, me, Kristin. Front: Lillian, Ruth, Morgan, Katie, Jimmie. Front front: Tipsie (Jimmie's dog that liked to bite at any machine that moved or made noise.)
---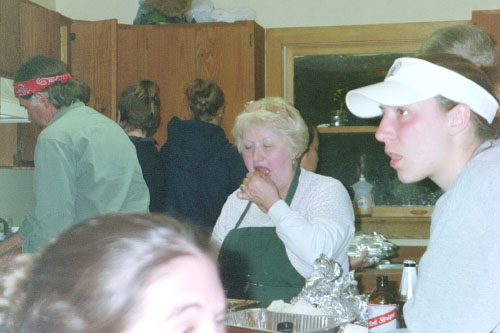 After much confusion as to where we were going to eat our last dinner, a friend of John's named San brought a whole load of food over to John's cabin. She is one heck of a good cook.
---
After a whole week of watching Jimmie and Nick constantly smoke their cigars (my theory is they did it to keep the bugs away), Kristin, Suzy and Ruth broke down and bummed a few off of Jimmie during the bonfire/oyster roast.
---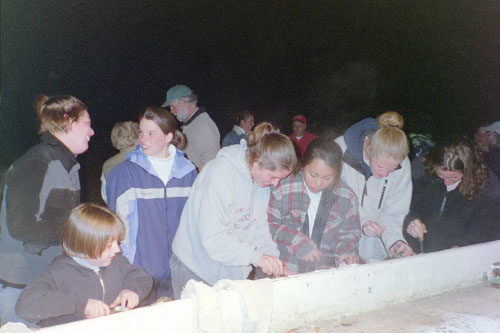 That's right. I said "Oyster roast." Jimmie has been having occassional oyster roasts in the same spot in the town of McClellanville for about the past 10 years. He somehow gets ahold of a bushel or two of oysters, lights up a big bonfire, and waits for the locals to gather around this unscheduled celebration of life. I found oysters to be simply delicious in the steamed form, but I declined the raw ones. In this picture and the next, the group lined up at a mock table and all had a try at prying open the oysters and tasting there salty, but succulent, insides. I found it extremely fascinating that while most of us in the group struggled a bit, prying open an oyster seemed to be the easiest thing in the world to the little 6-year-old local girl that's pictured in the lower left.
---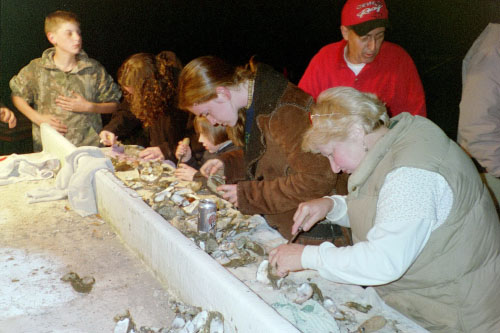 Yum, yum, yum. Nick said that he and his brother had recently finished off 3 bushels of oysters (some raw, some cooked) in one sitting. Now, I thought oysters were good, but not that good.
---
Suzy, Morgan, Steph, Lillian, and Erin enjoy the impromptu local band. If I remember correctly, there was one guy on guitar, a couple on bongo drums, a guy with a flute, some moroccas, and a tamborine. Later in the evening, Suzy got up and rapped for us. That was definitely a first at the oyster roast.
---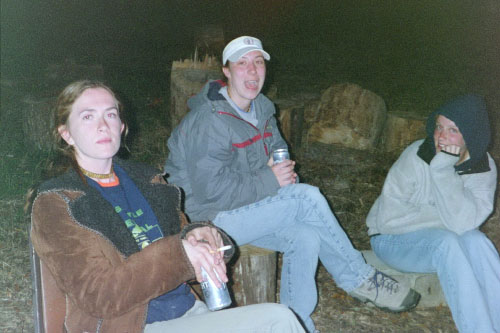 Katie, Ruth, and Kristin enjoy a beer and the warmth of the fire as I try to finish my roll of film.
---