Welcome to my Camera Section. If there are any pictures of you or yours that you do not wish to have on this page, please email me.
---
And so begins Washington, DC's "Freedom Parade" or something like that. This turned out to be one of the worst 4th of July parades I'd ever been at.
---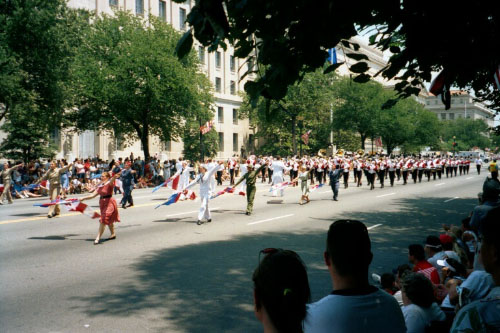 Oddly enough, however, the marching band from Clinton, IA was there. That was sort of neat.
---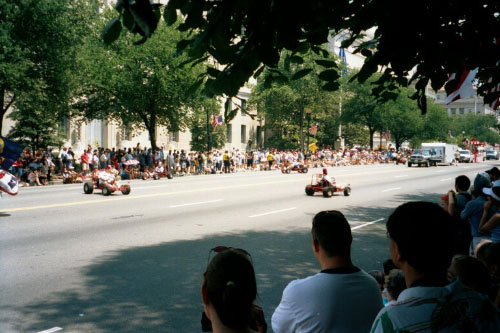 And there were the mandatory shiners in golf carts. That was good.
---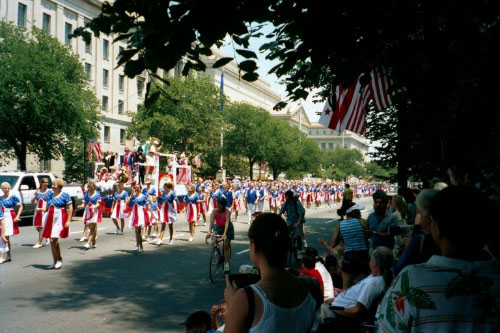 The parade ended with a gazillion cloggers. It was horrific. I swear, the four pictures shown here really are the high points of the incredibly pathetic parade. I mean, they didn't even throw candy...
---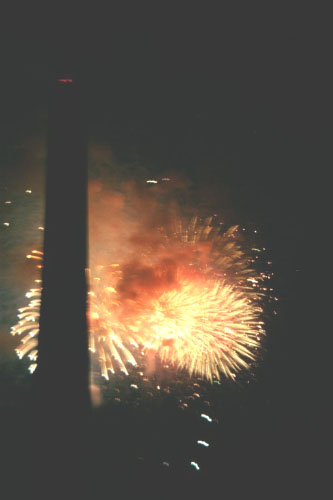 And then there were fireworks. Man, let me tell you: DC on the 4th of July sucks. I've seen way better fireworks in Dyersville, IA, and there was no ground show in DC. Honestly, if you want to see quality fireworks and a kick-butt ground show, go to Dyersville. They set 5-gallon buckets of napalm afire. Yeah, now that celebrates our country's freedom the right way.
---
The next day, Bret, Kate, and I went on a hike in Greenbelt Park. We found this carved on a tree. What an odd coincidence. (If you can't read it, it says: "Kate + Eric 5/31/99")
---
On the next day (Saturday), Kate and I drove around the larger chunk of Maryland, searching out rural areas. We found a couple of rural areas, but nothing worthy enough to be called the "Boonies." We also found this gorgeous lake, which it is illegal to swim in since it's a water reservoir. It is, however, a-ok to go fishing there.
---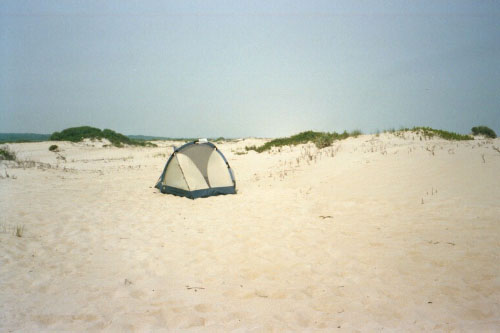 Finally, on Sunday, Kate and I took off to go camping at Assateague National Seashore. We "hiked" along the beach about 3 miles to get to our tent site, only to find a bunch of trucks and campers already down there fishing. It was kind of discouraging to think we could have just drove all the way out. Nevertheless, it was a good time, except for the heat and huge horse flies and the sand everywhere.
---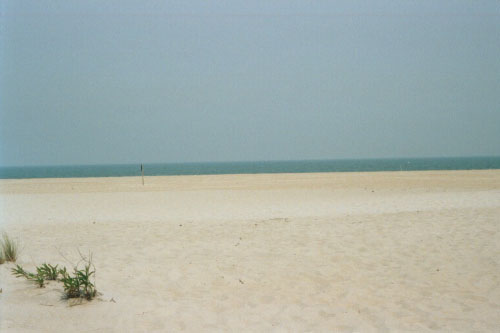 The view of the ocean from beside out tent. Very beautiful.
---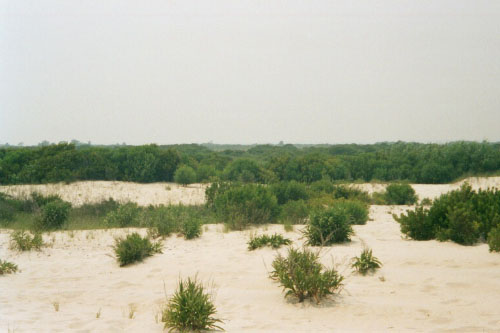 The view facing west, away from the ocean, from beside our tent.
---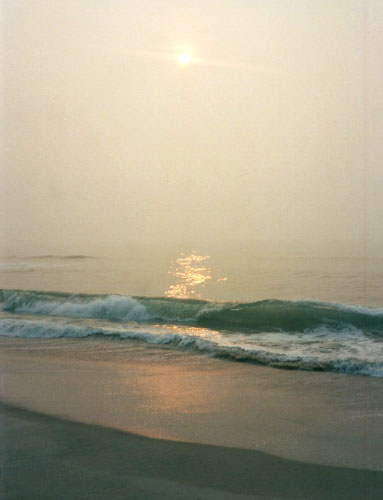 The next morning was extremely hazy. Yet, it allowed for this lovely beach picture to be taken. Of course, the picture does no justice for the real thing. You'll have to use your imagination. Here, let me help. Woosh... woosh... *seagull noise* ... *seagull noise* ... wooosh...
---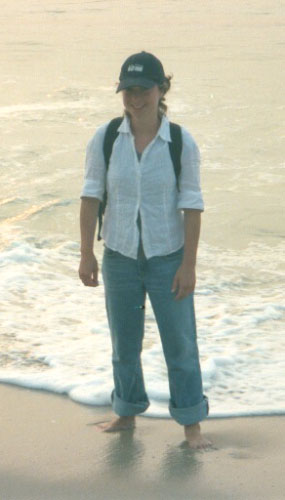 This is Kate. Get used to her. You'll be seeing more of her in these pictures as she's become a very important part of my life.
---
This is the bridge we crossed on the way to the ocean. It spans the huge bay that Maryland encompasses (more commonly known as the Chesapeake Bay). I think it's something like 6 miles long.
---
Another bridge picture. What a huge, neat bridge.
---
Enough of stuff I saw and things I did, onto people I met. This is one of my roommates from the summer. His name is Marc. He played tennis and always kept kosher, teaching me about both along the way. What a great guy.
---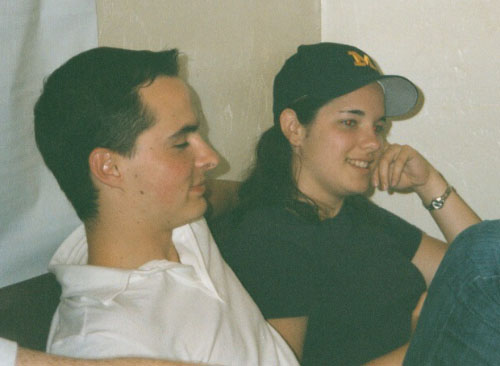 This is Dan and Allison. They sort of had a thing for each other. But really, who didn't have a thing for Allison? Or Dan? Or both?
---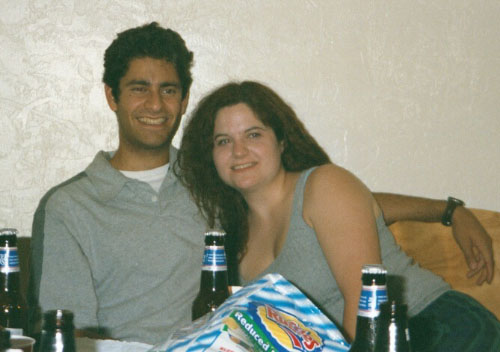 The crazy woman molesting Marc is Andrea. At one time I was considered to be her favorite resident of 131 Severn. I thought that was kind of odd since she had the hots for my roommate Chris.
---
Kevin and Dan at Marc's going away party. They had had a lot of beer.
---
3 of the 4 residents of 131 Severn. The man on the left is Chris. He was from Alabama and could say "Damn" with the best of 'em. (For a picture of all 4 roommates, click here.)
---
Marc gets molested by the girls next door. I know he likes it.
---
A few weeks later I went to an Orioles' game. It was pretty sweet.
---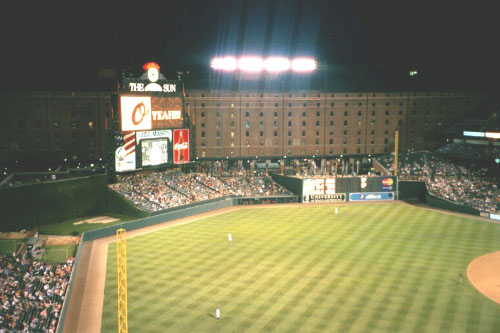 It was Orioles vs. Twins. The Orioles won by quite a bit. They had two homers, one being a grand slam. The last time I saw the Orioles play was also against the Twins in Minnesota back in the days when Ripken was still playing. The Orioles won then, too.
---
Realizing I had yet to snap a picture of the fourth roommate, I took this picture of Andrea and Brian after the game. Brian was really cool and he and I went to a new opening movie every weekend of the summer. It was tons of fun.
---
The summer being over, I moved here. It's a nice place. Nothing too special.
---