Welcome to my Camera Section. If there are any pictures of you or yours that you do not wish to have on this page, please email me.
Also, note that most of these pictures were taken by my mother. I hold no responsibility for the quality of the pictures.
---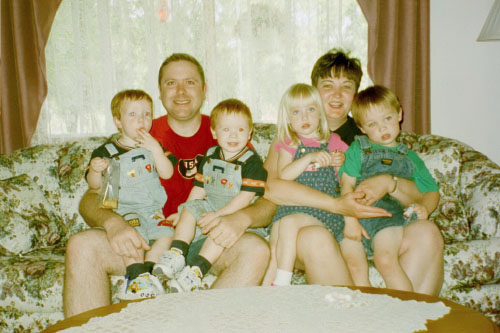 Troy and Kari show off their sets of twins.
---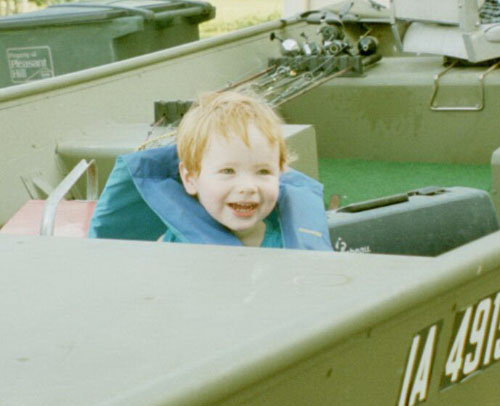 Grandma and Grandpa came to visit Travis and Trevor and to get some fishing done. But before they set out, the twins get to check out the boat. I think Troy needs to get a net for around the house.
---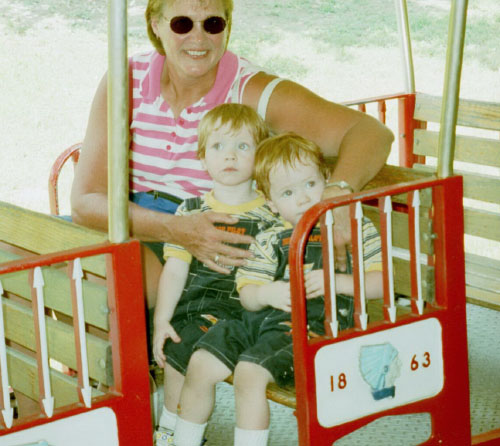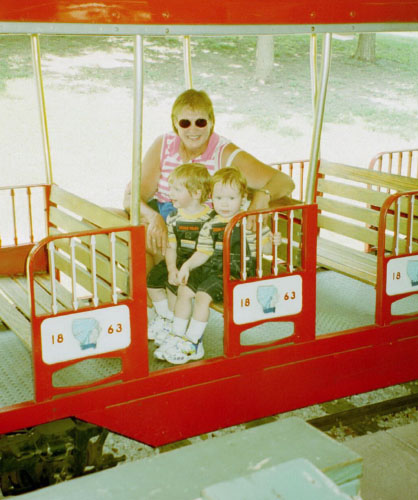 Grandma and Grandpa also took Travis and Trevor to the zoo. The first thing they did was (of course) ride the choo-choo.
---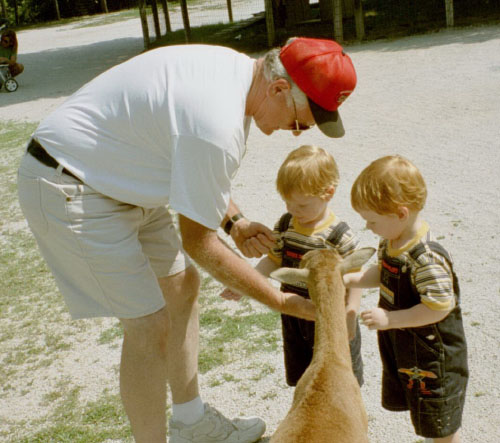 Next they fed some of the animals. Grandpa sure does like to help the youngsters feed animals, as we'll see again later on.
---
The twins even got to ride on a real camel. I sure am jealous.
---
After visiting the twins, Mom and Dad came out East to help me move from Baltimore to College Park. They even brought along my girlfriend Kate. Here, Mom snapped a quick picture of her while Kate was helping to set up my new living room.
---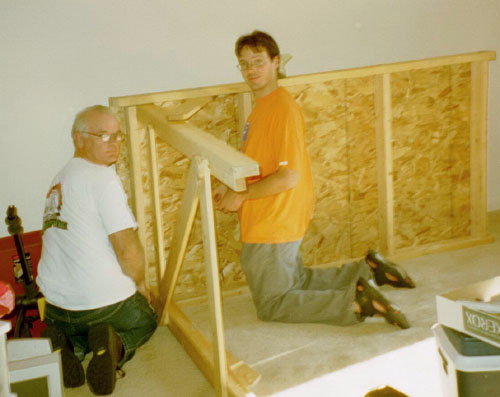 Here, Dad helps me set up the loft. Probably the last time we'll ever set it up together. I'm sure he's happy to hear to that.
---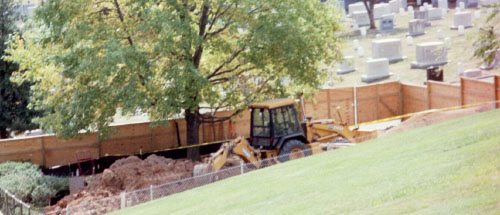 After the parents and Kate helped me move in, we toured DC. Here is a John Deere Backhoe that we found parked in Arlington National Cemetary. Judging by the make and model, there is an extremely good chance that my dad helped build it at the Dubuque plant.
---
This is the eternal flame that burns at JFK's grave site.
---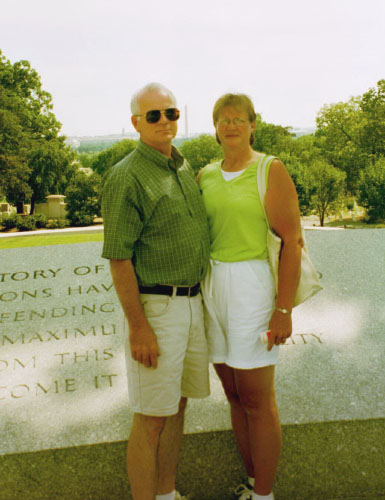 Awww... what a cute couple.
---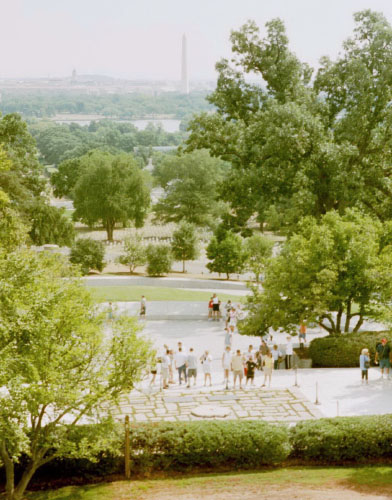 The view from above JFK's grave, looking out toward DC.
---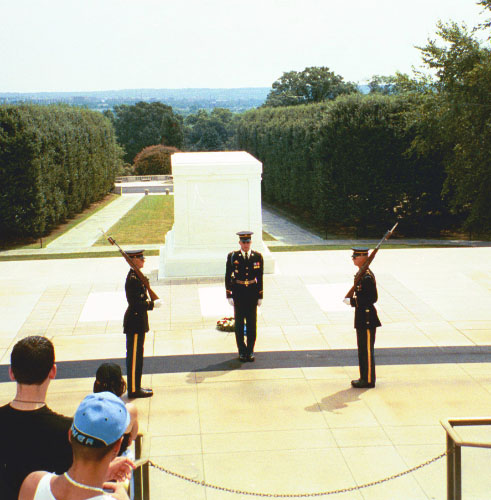 Next stop in the Arlington National Cemetary was the Tomb of the Unknown Soldier. Here we saw the changing of the guard that happens every 30 minutes. And let me tell you, 30 minutes has got to seem like forever when you're one of those guards, dressed in full military outfits and it's over 100 degree out.
---
Just outside the cemetary lies the National Iwo Jima Memorial. Around it's base it lists every conflict and war that the US has taken part in since 1776.
---
In the lawns surrounding the Iwo Jima Memorial, the sprinklers were watering the grass since DC was in the middle of a small drought. Mom took advantage of these water sprinklers to cool off a bit. It was pretty comical. Especially when the sprinkler turned quickly and got a good shot of her backside.
---
Next, we took the metro back to the DC area and saw the White House.
---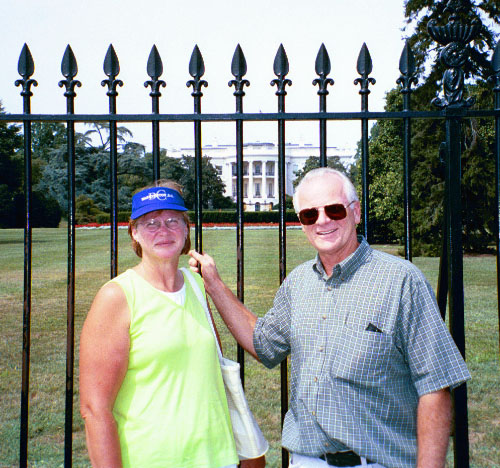 This is a pretty cute couple standing in front of the White House, but...
---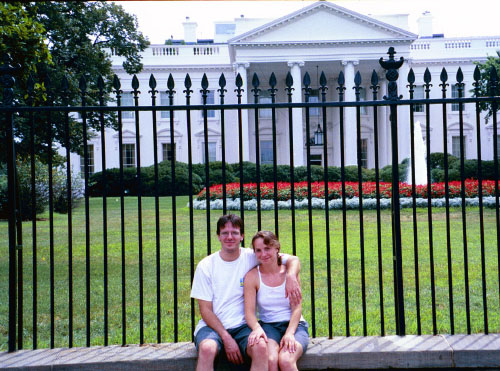 I think this couple is a lot cuter. So cute, in fact, that they're worthy of a closer look:
---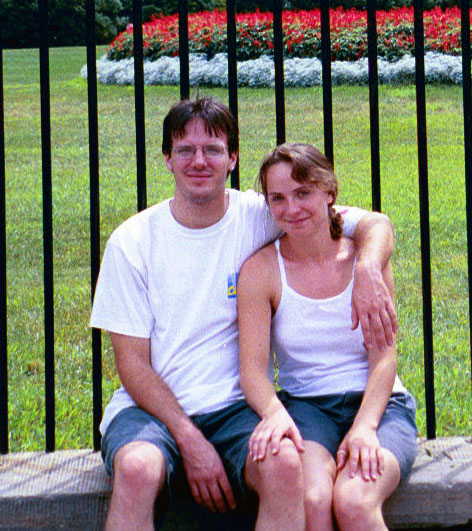 Oh, to be young and in love again... Wait, I am young and in love. Woo-hoo!
---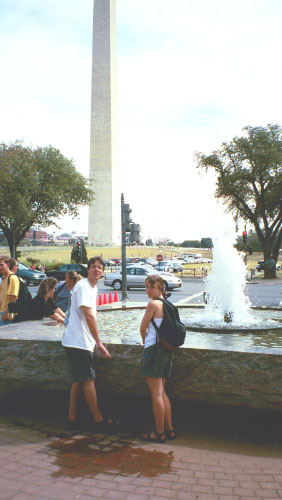 Kate and I decide to cool off by a fountain on our way to the Lincoln Memorial.
Oh, and in case you think I'm a horrible boyfriend for making her carry the backpack, I'll have you know that we were switching on and off all day and it just so happens that when this picture was taken she had the bag.
---
To see the next roll of my mom's DC pictures, click here
---