Warbirds 3 Movies
Below are movies that I created using Warbirds III. Enjoy! If you are interested in creating your own (it's cheap and most should be able to do it), I have put down what I have learned near the bottom of this page.

The screen shot next to each download is a shot from its respective movie. They are listed with the most recent at the top. The look of the game and my movie taking have progressed considerably over time... :)

All the effects and gunsights in the films are custom made by myself and can be obtained through the links in this sentence.




Here's an MP3 I recorded of my squad, the Haze, during a heated S3 encounter. We were flying P38's against 109's over Tunisia.

s3audio.mp3 (843k)


Ameteurs
Just a quick ad I did up with a not so original theme.

Ignore the bad filming, acting, and editing... :)

Hosted at youtube.com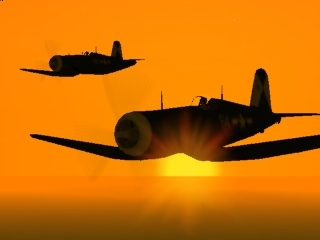 Top Gun
Inspired by the opening scene in the movie, Top Gun, this is dedicated to the PTO Naval fliers.

I also had a little fun with a morphing program. ;)

Hosted at youtube.com


Thunderbolt
With AC/DC's Thunderstruck as the background music, P47's give all they got to the Germans.

This one shows off well the customization that can be done with WB3: custom skins, custom effects, and custom gunsights are all used in this one.

Hosted at youtube.com


Russian T34's
With the background of 'Hungarian March', Russian tanks takes revenge on the German country side.

I used iEN's online tank game, Armored Assault, for the shots.

Hosted at youtube.com

Lightning Warfare
LW vehicles tearing it up in the Blitzkrieg to the tune of Grieg's "In The Hall of the Mountain King".

Watch your speakers, the music starts soft but will suddenly get loud with a quickening pace. :)

Hosted at youtube.com


Newsreel, May, 1944
Shows footage from a bomber mission during a TFT (Target for Tonight) mission.

I put in commentary and gave the film a real historic look.

Hosted at youtube.com

credit: sound effects by Roboto, map by Oscoog


Warbirds 3 Promo Video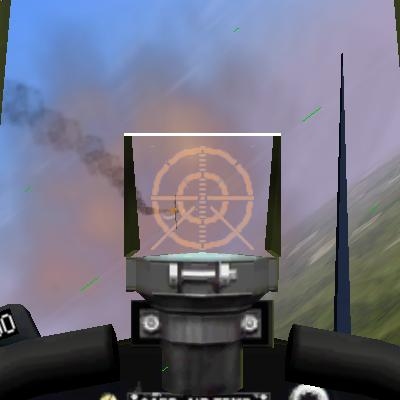 Shows killing of several Warbirds 3 vehicles from dusk to dawn to the tune of "In the Mood".

Hosted at youtube.com


TIPS FOR MAKING MOVIES
Just a note, this is what I have learned and you will see some of my earlier movies going against what I have here. Those are what I learned all this on! :P
Sound
I start with talking about the audio aspect of the movie because it is easier to produce the sound and music first and then wrap the video into it. The sound I create goes through several phases. First I rip the song as a WAV from a CD with the shareware version of CDex. I then edit the WAV file in a program called Wave Studio that came with my sound card. The length of the movie is usually dictated by the song I decide to use. Although, you want to try to keep the length of it under 3 minutes to keep the file size down. Using the WAV editor I chop up the song, fade it out, give it effects, put my voice in, etc. I then leave it in the WAV format.
Video
For capturing the video I use a utility I wrote to originally record gun camera action for me. I then tweaked it to allow movie taking. You can find it here: Java GunCam. When taking film, you want to make the settings such that you don't over work your computer and get jerky shots. The size of your film should be the same height/width ratio as your monitor so it will display well if viewed in full screen. I advise using 320x240. This is big enough to see, yet small enough to keep the files size in check. For a delay between frames, I advise using 100 miliseconds. Any smaller and even fast systems will have frames being taken at irregular intervals. Also note that you want to take quick recordings, the longer a recording goes the more it degrades your system performance. While filming, I make marks on my monitor screen of the area that is being taken. For Warbirds3 (and most games) you should run it in a window. This not only ensures that every shot is a complete image, but also allows you to move the game around and take footage of areas besides just the center.

Java GunCam will only take the individual frames. You then need to use an utility to animate them. I use Paint Shop Pro 6 and Animation Shop 2, which accompanies it. Any utility that can animate JPG's into an AVI file will do. Most freeware does not allow AVI output, so you may have to spend some money here. I pick the frames I want to animate and then put them together. When I do this, I change their frame delay to 80 miliseconds. This speeds up my taken footage and makes it look smoother with more action. Don't produce one huge AVI file, split your movie up. This keeps files efficient to work with, and allows quicker tweaking. Once I am done animating, I have several AVI files that I convert to M1V. This is done with the shareware version of TMPGEnc. I change the setting to use 12 FPS (24 internal) when doing the conversion. TMPGEnc also allows me to put all the M1V files into a single MPG.
Putting It Together
TMPGEnc allows you to roll a WAV and an MPG into a new MPG with sound. If you are trying to line up your footage with the sound, things are a little more difficult. When doing this, I normally have a cheat sheet of all the dialogue and music printed out on it. I then find points in the WAV file and note how many miliseconds into the song that point is. These points of reference are then used to work my video into the sound. To do this you have to use a little math. You just have to keep in mind that you have your film with a 80 milisecond delay. So each frame adds on 80 miliseconds. So if a crashing noise occurs at 33140 miliseconds into the song, then I know that frame #414 (33140/80) should have my explosion. I work with each of my sectional AVI files until the timing is perfect, then I convert and line them all up and tweak some more to fit.
In Closing
I usually zip up my MPG's so they are not streamed from my web site and then get the file a little bit smaller for modem users.

This is not easy. It takes practice. Don't be upset at your progress, it will get better with each movie. My first movie took about a month to piece together and get it working. The last movie I made took me about weekend... and it was better.